The Ashley Bryan Center was created in 2013 to "preserve, celebrate and share broadly artist Ashley Bryan's work and his joy of discovery, invention, learning and community. The Ashley Bryan Center will promote opportunities for people to come together in the creation and appreciation of visual art, literature, music, and the oral and written traditions of poetry. The Center is fiercely committed to fostering cultural understanding and personal pride through scholarship, exhibitions and opportunities in the Arts."

The Ashley Bryan Center is not a "bricks and mortar" institution. In close collaboration with Ashley, we are currently involved in the process of planning and organizing resources to fulfill our mission and goals.
Projects for 2020 and beyond...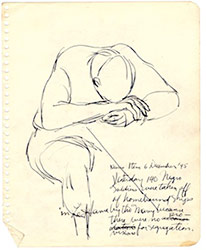 News Item 6 December '45: Yesterday 140 Negro Soldiers were taken of homebound ships in Le Havre by the Navy because there were no provisions for segregation.


1) Ashley Bryan Archive. After the founding of the Ashley Bryan Center in 2013, the extensive collection of art and manuscripts created by Ashley Bryan over nine decades was entrusted to the Center for safekeeping, study and future projects. This stewardship offered both an exciting opportunity and great responsibility.

In 2019, with the leadership of H. Nichols B. Clark, founding director of the ABC, a major section of the archive, all works on paper plus items from each medium in which Ashley has worked, was gifted to the Kislak Center for Special Collections at the University of Pennsylvania. On December 5, 2019 The Kislak Center hosted a celebration of the arrival of the archive and launch of Ashley's memoir, Infinite Hope. Ashley joined a large group of friends, family, and members of the Penn and Philadelphia communities and his comments emphasized the importance of perseverance, greeting each day with curiosity, and looking to find the best in yourself.

The ABC and Ashley look forward to Penn's plans to exhibit Ashley's work and, most importantly, to conserve and digitize the archive, giving students and scholars access to this extensive and important body of writing and art. Senior Curator for Special Collections, Lynne Farrington has sketched next steps as, "the Libraries will process the collection, which will take up to a year-and-a-half to organize and catalogue. Some items will be digitized." Plans are to hold a major symposium and exhibition based on the collection in 2023.

Video: Archive of pioneering author and artist comes to Penn Libraries

In 2021–2022, along with completing the gift to Kislak, the ABC is focused on Maine institutions. We are working with colleges and museums to place more of Ashley's art in this state where he has lived and worked for the past 60 years, ensuring his Maine legacy. Although the sea glass panels will remain on Islesford, at the Congregational church and in the Pavilion, some of the puppets and many of Ashley's paintings and linoleum prints will be gifted to extend a Maine Ashley Bryan art trail.

Link: South Solon Meeting House Frescoes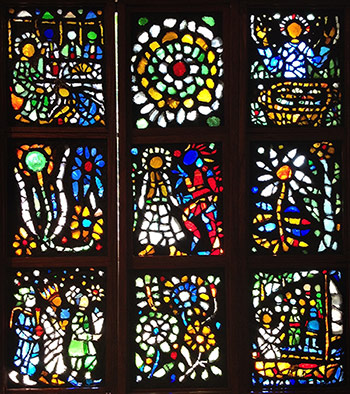 2) The Storyteller Pavilion (named by Ashley). This freestanding meditative space, opened in 2017, was constructed on land next to Ashley's home that the Bryan family gifted to the ABC. The Pavilion holds his breathtaking sea glass window panels, many of the puppets he constructed from materials found during walks on Cranberry Isles beaches, and a rotating selection of Ashley's art and books.

Ashley began making these stained glass windows in the 1950's out of beach glass and papier-mâché. One of the highlights of his life's work and inspired by visits to medieval European cathedrals, his glowing panels illustrate scenes from the life of Christ. Close friend Alison Morris wrote: The results are stunning, the uneven surfaces of each shard bending the light in unusual ways, the stamped letters of various bottle logos lending additional meaning to Ashley's bright compositions.

Docents enable the Pavilion to be open daily from June through September and by appointment during the winter months. Please email info@ashleybryancenter.org for further information.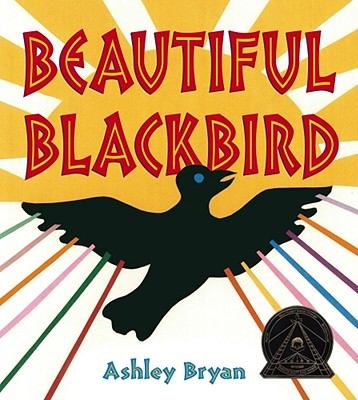 3) Book Distribution. Each year we aspire to distribute copies of Ashley's Beautiful Blackbird through schools, libraries and organizations serving underserved children across the country who have few, if any, books of their own. Working in collaboration with First Book, a special edition adds a note from Ashley and copies go home with the students. Judging from responses from students, parents, and educators, Blackbird's message of inclusion and honoring who you are has meaning for all who read it. Thus far, over 20,000 distributions have been made in Maine, New York City, Atlanta, and Philadelphia.