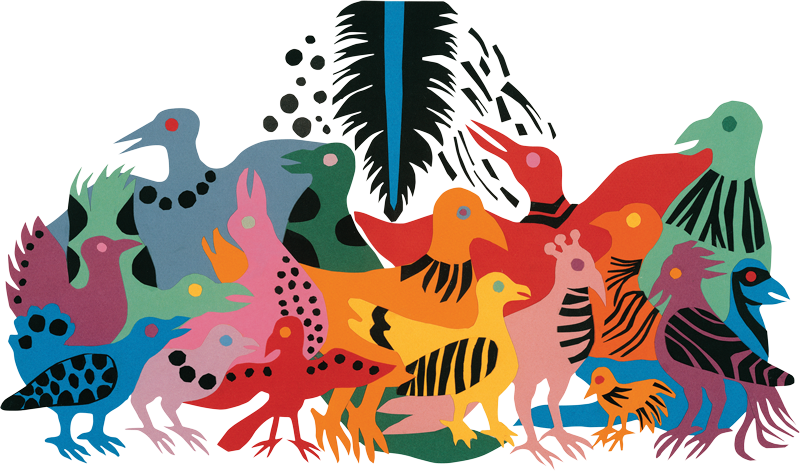 Update
2019 was an exciting year for Ashley and the Ashley Bryan Center and we thank you for your support!

The process involved in gifting Ashley's archive to the University of Pennsylvania ("Penn") was flawless and, actually, great fun for all involved, including Ashley. Important historical elements of the archive and original artwork from Ashley's books are now at the Kislak Center in Philadelphia. To celebrate the arrival of Ashley's archive and the publication of Infinite Hope, Penn hosted events in December 2019 and February 2020.

We also gifted original artwork from Ashley's Sail Away, a book of Langston Hughes poems, to the Morgan Library and Museum in New York.  As a wonderful complement to this gift, Ashley is doing an audio recording of the Hughes poems he illustrated.

Infinite Hope: A Black Artist's Journey from World War II to Peace arrived in bookstores. There is significant excitement and reviewers confirm this could be one of the most important books published this year. The writer of the starred Kirkus review said it well, "so many unique yet universal aspects of the human experience are touched upon in this lovingly shared memoir: the passion that kept an artist going through the most difficult times, the contradictions of war against Nazism with segregation at home and within the U.S. Army. Watching Bryan generously transform the bittersweet into beauty is watching the meaning of art."

An important part of our job is accomplished, but we are far from being finished. The Mission of the Ashley Bryan Center is "to preserve, celebrate, and broadly share Ashley's work and his joy of discovery, invention, learning, and community." Consistent with this, the list below highlights projects for 2020 and beyond and yes, we need your financial support:

We are committed to keeping The Storyteller Pavilion open to the public. Built on land gifted by Ashley, the Pavilion provides a meditative space housing Ashley's puppets, seaglass windows, and a number of his paintings. It costs $12,000 per year to operate and maintain and it is our goal to have a $200,000 endowment to assure its future.

Each year we aspire to give 5000 copies of Ashley's Beautiful Blackbird to underserved children across the country. In many cases these are children who don't have books at home. The cost is $22,000 a year. Anyone who knows Ashley understands how much joy this book project brings him. In 2019 the books were received by children in metropolitan Philadelphia. Please let us know if you might be interested in sharing sponsorship of a book distribution in your community.

In the future a large percentage of our time will be spent collaborating with museums, libraries, universities and other institutions or individuals who have collections of Ashley's work. Our goal is to make sure that this work is shared and appreciated by as many people as is possible. In 2019 we donated $10,000 to Penn to initiate an Ashley Bryan Fellowship to enable scholars to visit and work with the archive. We plan to spend at least $10,000 each year on programs like this designed to promote Ashley Bryan's work and his joy of discovery, invention, learning and community. The importance of this legacy is what has driven us since the Center was created.

There has never been a time when Ashley, his art and his books have been more important. To quote Ashley, "I've seen a pattern throughout the world, one group against another, one religion against another, one ethnicity against another, so it's universal. But there's also equally a universal desire to create relationships based on what is human in each of us. The desire is strong and the arts are one of our weapons because just as we are all human, so we are all responsive aesthetically." His life and his work illustrate so beautifully the link between the arts and social justice. The obvious goal is to make sure that more people see and hear his message. To do this, we need your help more than ever.

To donate online, visit our DONATE page.



Daniel Lief
President, Board of the Ashley Bryan Center