In 2013, a long-time dream of Ashley's was realized when money was raised to install two sets of his sea glass panels in the Islesford Congregational Church.
This same year, a group of island friends and members of Ashley's family decided it was time to do more to ensure Ashley's legacy would continue for generations to come. The Ashley Bryan Center was founded with the mission "to preserve, celebrate, and share broadly artist Ashley Bryan's work and his joy of discovery, invention, learning, and community." 
In the summer of 2014, the Ashley Bryan Center held a retrospective exhibition of Ashley Bryan's life and work, displayed at the Islesford Museum, owned by the National Park Service, on Little Cranberry Island. "A Visit With Ashley Bryan" included a timeline of Ashley's life with examples of his work in many media from various periods. It featured puppets, sea glass windows, paintings, drawings; and displays of book illustrations that used block prints, tempura paint, and collage. Many of the items had never been seen and much excitement was generated; over 12,000 visitors passed through that summer. The exhibit moved to College of the Atlantic, Bar Harbor, for the following winter and went on to the Wendell Gilley Museum in Southwest Harbor for the summer of 2015.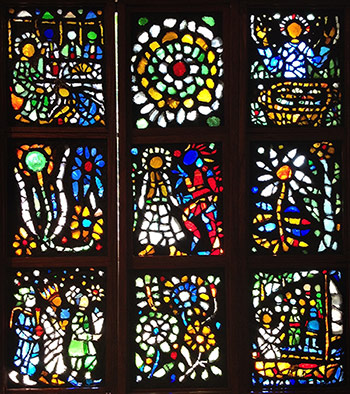 Many of the items had never before been seen by anyone but Ashley's closest friends and family—in particular Ashley's drawings of his war experiences in the segregated U.S. Army. Many people who thought they "knew" Ashley found they did not know about aspects of his life, the depth and breadth of his education and artistic experience. The exhibition proved to be very emotional and exciting for visitors—many of whom told their friends. The museum's usual attendance of a few thousand visitors a summer expanded to over 12,000 visitors who came to see Ashley's exhibition.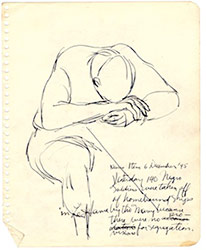 When it was over, friends at the nearby College of the Atlantic asked if the exhibition could be moved to the college for the winter, so the Center agreed to extend its life through February. Then the Wendell Gilley Museum in Southwest Harbor asked for a modified version of the exhibition to be displayed there for the summer of 2015. The exhibition was modified, and a new section, "Hot off the Press" was added to include the two new publications released in 2015: By Trolley Past Thimbledon Bridge, and Sail Away.